Communications Guide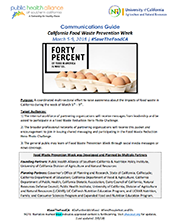 California's Food Waste Prevention Week is March 5th-9th, 2018.  This Communications Guide offers partners from all sectors the opportunity to raise awareness about the impacts of food waste in California within their workforce, across their professional networks and in their communities.
The Guide is a living document and will be updated with approved additional materials and designations, as new state agency announcements or endorsements are confirmed.  Please continue to check back for updates regularly.
The Guide is designed to offer a menu or participation options to those intending to elevate food waste issues during CA Food Waste Prevention Week 2018.  Materials include: leadership endorsements, draft staff communications, suggested social media posts, SaveTheFood campaign materials, and more.
Looking for the full resolution posters and banners included in the Communications Guide? Download them here [ZIP, 26 MB].
Communications Guide Webinar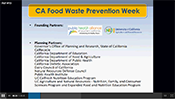 Check out this recording of an overview webinar for CA Food Waste Prevention Week's Communication Guide.  This recording was captured on 1/29/18 and walks viewers through various elements of the Guide and how to prepare your organization to take part in CA Food Waste Prevention Week starting March 5, 2018.
Communications Guide Slides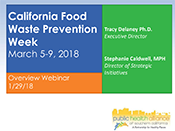 This slide deck covers essential information to support your organization's involvement in CA Food Waste Prevention Week.  It includes screen shots of key elements from the Communications Guide.
Participating Organizations