This webinar, held on August 18, 2015 at 2 pm, provided participants with an overview of the water footprint of regional agriculture, and explored the connections between a water wise and healthy diet. Participants learned about the scientific report of the 2015 Dietary Guidelines Advisory Committee, and strategies to support a water friendly and nutritious diet that promotes sustainability and public health in local jurisdictions.
Below, you may view the completed webinar and download the accompanying PowerPoint presentations.
Presentations:
Webinar Presentation
Kari Hamerschlag - The Water We Eat: Why Food Choices Matter for Water Conservation
Becca Klein - USDA Dietary Guidelines
Recommendations for Action:
Establish procurement policies that support healthy and sustainable purchasing, and pass a "Meatless Monday" resolution.
Provide nutrition education on plant-based protein foods with a low water footprint, and include education on storage and preservation techniques to reduce food waste.
Encourage the USDA and HHS to adopt the 2015 Dietary Guideline Recommendations on recommendations on sustainability.
Resources
Below is a brief list of key resources to support you in taking action to promote a water friendly diet. For additional resources or support, contact the Alliance's Healthy Food Systems Coordinator, Holly Calhoun. 
Speakers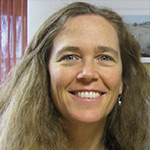 Kari Hamerschlag is a senior program manager with the Food and Technology Program at Friends of the Earth, where she carries out research and implements market and policy campaigns aimed at reforming animal agriculture, reducing consumption of factory farmed animal products and promoting healthy, fair and sustainable food and farming systems. Prior to Friends of the Earth, she worked for five years as a senior analyst with the Environmental Working Group where she did research and advocacy on a wide range of food and agriculture issues including the U.S. farm bill, GMOs, climate change, organic agriculture, food security and conservation policy. Hamerschlag has done extensive research on the links between food production and climate change and was the lead author on a comprehensive web-based Meat Eater's Guide to Climate Change and Health.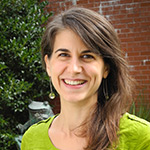 Becca Klein is an organization development and food systems consultant. She helps people take ownership of their role in human systems, guides effective change management and works with teams to foster an understanding of how all members contribute to the group's dynamics. She is especially interested in supporting those engaged in the food system, and has worked for over a decade in public health, most recently as a senior program officer with the Johns Hopkins Center for a Livable Future where her work focused on improving federal food and agriculture policy through coalition building, policy analysis and advocacy. Her clients have included the Sustainable Agriculture and Food System Funders, Healthy Food Action, the American College of Lifestyle Medicine and Friends of the Earth.