This webinar, held September 30 from 12-1 pm, featured community water expert and best-selling author Brad Lancaster, who discussed the transformative power of water through integrated community design. Participants learned about practical strategies and actions to support public health's vision of healthy and resilient communities.
Below, you may review key points from the webinar, download the accompanying PowerPoint slides, and peruse our resource materials.
Presentations:
Public Health Alliance - Overview
Brad Lancaster - Thinking Local: The Role of Health Leadership in Water Capture
Speakers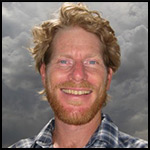 Brad Lancaster is a dynamic teacher, consultant, and designer of regenerative systems that sustainably enhance local resources and our global potential. He is the author of the award-winning, best-selling book series Rainwater Harvesting for Drylands and Beyond; the website HarvestingRainwater.com; and its 'Drops in a Bucket' Blog. He is also a co-founder of Desert Harvesters, which strives to repopulate Tucson's urban core with rain-irrigated indigenous-food plants.